About Us
Bianca's Pizza has been a family business since 1991 We have an authentic Sicilian style and use only fresh ingredients such as 100% mozzarella & our own fresh signature tomato sauce Our Pizzas are stone baked in our stone kiln freshly made to order. We have our own range of specials that have a unique exquisite taste Why don't you try our Indiana Jones or Lasagne?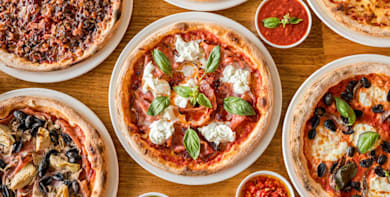 Reviews
132 reviews
John
"excellent pizza"
01/06/2020
Sereen
"Ordered 2 pizza's with chips and coleslaw, chips were a little cold but the pizza's were really nice and worth the money. Would definitely eat from here again."
31/05/2020
Lee
"First time ordered and it won't be my last time the pizza was so tasty and fresh defo will order again"
30/05/2020
Niamh
"Food was all perfect and delivered early also!"
29/05/2020
Menu
Falkata
Cheese, mushrooms & garlic sauce fold over
£7.50
Calzone
Cheese & tomato sauce fold over
£7.00
La Julieta
Parcelled tuna with garlic sauce
£7.50
Margherita 09" Thin Crust
Signature tomato sauce & mozzarella
£6.00
Margherita 12" Thin Crust
Signature tomato sauce & mozzarella
£8.50
Margherita 09" Deep Pan
Signature tomato sauce & mozzarella
£8.00
Margherita 12" Deep Pan
Signature tomato sauce & mozzarella
£9.50
Caribiana 09" Thin Crust
Mortadella ham & pineapple
£7.40
Caribiana 12" Thin Crust
Mortadella ham & pineapple
£10.10
Caribiana 09" Deep Pan
Mortadella ham & pineapple
£9.60
Caribiana 12" Deep Pan
Mortadella ham & pineapple
£11.30
BBQ-IT 09" Thin Crust
BBQ chicken, pineapple & BBQ sauce
£7.40
BBQ-IT 12" Thin Crust
BBQ chicken, pineapple & BBQ sauce
£10.10
BBQ-IT 09" Deep Pan
BBQ chicken, pineapple & BBQ sauce
£9.60
BBQ-IT 12" Deep Pan
BBQ chicken, pineapple & BBQ sauce
£11.30
La Bella 09" Thin Crust
Tuna, mushrooms & pineapple
£8.10
La Bella 12" Thin Crust
Tuna, mushrooms & pineapple
£10.90
La Bella 09" Deep Pan
Tuna, mushrooms & pineapple
£10.40
La Bella 12" Deep Pan
Tuna, mushrooms & pineapple
£12.20
Marinara 09" Thin Crust
Tuna, prawns & anchovies
£8.10
Marinara 12" Thin Crust
Tuna, prawns & anchovies
£10.90
Marinara 09" Deep Pan
Tuna, prawns & anchovies
£10.40
Marinara 12" Deep Pan
Tuna, prawns & anchovies
£12.20
Mexicana 09" Thin Crust
Red onion, green pepper & chillies
Very hot
£8.10
Mexicana 12" Thin Crust
Red onion, green pepper & chillies
Very hot
£10.90
Mexicana 09" Deep Pan
Red onion, green pepper & chillies
Very hot
£10.40
Mexicana 12" Deep Pan
Red onion, green pepper & chillies
Very hot
£12.20
Melazama 09" Thin Crust
Aubergine, red peppers & black olives
£8.10
Melazama 12" Thin Crust
Aubergine, red peppers & black olives
£10.90
Melazama 09" Deep Pan
Aubergine, red peppers & black olives
£10.40
Melazama 12" Deep Pan
Aubergine, red peppers & black olives
£12.20
La Donna Mia 09" Thin Crust
Mortadella ham, sweetcorn & pineapple
£8.10
La Donna Mia 12" Thin Crust
Mortadella ham, sweetcorn & pineapple
£10.90
La Donna Mia 09" Deep Pan
Mortadella ham, sweetcorn & pineapple
£10.40
La Donna Mia 12" Deep Pan
Mortadella ham, sweetcorn & pineapple
£12.20
Meatpackers 09" Thin Crust
Mortadella ham, pepperoni, salami & Bianca's spicy beef
£8.80
Meatpackers 12" Thin Crust
Mortadella ham, pepperoni, salami & Bianca's spicy beef
£11.70
Meatpackers 09" Deep Pan
Mortadella ham, pepperoni, salami & Bianca's spicy beef
£11.20
Meatpackers 12" Deep Pan
Mortadella ham, pepperoni, salami & Bianca's spicy beef
£13.10
La Favorita 09" Thin Crust
Pepperoni, black olives, anchovies & chillies
£8.80
La Favorita 12" Thin Crust
Pepperoni, black olives, anchovies & chillies
£11.70
La Favorita 09" Deep Pan
Pepperoni, black olives, anchovies & chillies
£11.20
La Favorita 12" Deep Pan
Pepperoni, black olives, anchovies & chillies
£13.10
Vegetariana 09" Thin Crust
Mushrooms, red onion, sweetcorn & green peppers
£8.80
Vegetariana 12" Thin Crust
Mushrooms, red onion, sweetcorn & green peppers
£11.70
Vegetariana 09" Deep Pan
Mushrooms, red onion, sweetcorn & green peppers
£11.20
Vegetariana 12" Deep Pan
Mushrooms, red onion, sweetcorn & green peppers
£13.10
Bella Regina 09" Thin Crust
Ham, pineapple, cinnamon & fennel
£8.80
Bella Regina 12" Thin Crust
Ham, pineapple, cinnamon & fennel
£11.70
Bella Regina 09" Deep Pan
Ham, pineapple, cinnamon & fennel
£11.20
Bella Regina 12" Deep Pan
Ham, pineapple, cinnamon & fennel
£13.10
Indiana Jones 09" Thin Crust
Balti chicken, red onion, green peppers & chillies
£8.80
Indiana Jones 12" Thin Crust
Balti chicken, red onion, green peppers & chillies
£11.70
Indiana Jones 09" Deep Pan
Balti chicken, red onion, green peppers & chillies
£11.20
Indiana Jones 12" Deep Pan
Balti chicken, red onion, green peppers & chillies
£13.50
Bianca's Oriental Royal 09" Thin Crust
Mortadella ham, sweetcorn, pineapple & Chinese chicken
£8.80
Bianca's Oriental Royal 12" Thin Crust
Mortadella ham, sweetcorn, pineapple & Chinese chicken
£12.00
Bianca's Oriental Royal 09" Deep Pan
Mortadella ham, sweetcorn, pineapple & Chinese chicken
£11.80
Bianca's Oriental Royal 12" Deep Pan
Mortadella ham, sweetcorn, pineapple & Chinese chicken
£14.30
Bianca's Special 09" Thin Crust
Green peppers, red onion, sweetcorn, pineapple, mortadella ham & pepperoni
£9.00
Bianca's Special 12" Thin Crust
Green peppers, red onion, sweetcorn, pineapple, mortadella ham & pepperoni
£11.70
Bianca's Special 09" Deep Pan
Green peppers, red onion, sweetcorn, pineapple, mortadella ham & pepperoni
£11.20
Bianca's Special 12" Deep Pan
Green peppers, red onion, sweetcorn, pineapple, mortadella ham & pepperoni
£13.50
Bianca's Delux 09" Thin Crust
Green peppers, salami, onions, mortadella ham, prawns, sweetcorn, pineapple & olives
£9.50
Bianca's Delux 12" Thin Crust
Green peppers, salami, onions, mortadella ham, prawns, sweetcorn, pineapple & olives
£12.50
Bianca's Delux 09" Deep Pan
Green peppers, salami, onions, mortadella ham, prawns, sweetcorn, pineapple & olives
£12.00
Bianca's Delux 12" Deep Pan
Green peppers, salami, onions, mortadella ham, prawns, sweetcorn, pineapple & olives
£15.50
Contact Us
Find Us
Station Road, Quorn, LE128BS
We deliver to
LE11, LE12, LE7